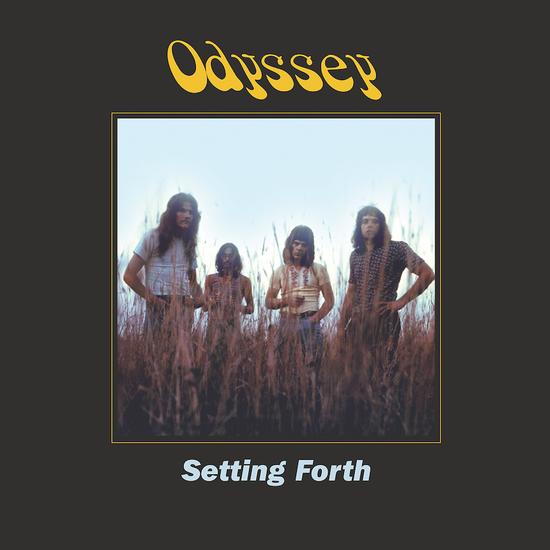 Product Description
Date de sortie :
2020-09-25
Super album pour les fans de rock psyché!!!
----------------------------------
- One of the absolute best American psychedelic LPs of the 1960???s, and one of the rarest

- Includes a color insert with rare photos, and kaleidoscopic band history by Odyssey leader Vinny Kusy
--------------
Once upon a time, when the music business was more music than business (but only just), there was a band that created a quintessential dose of New York sixties psychedelia: one perfect album, loaded with fuzz guitar riffs of the greatest ferocity, heavy swirling organ, pulsating drums, and intense vocals. That band was Odyssey. It is true that their album, ???Setting Forth,??? did not take them from support slots in their native Long Island to the major label heights of other local bands like Vanilla Fudge. That could be because there were only a few copies made, and they came in a plain white jacket. Yet it is that same Odyssey ???Setting Forth??? album that is one of the greatest guitar-heavy psychedelic records in the world, and as a result is one of the most sought after and rare (expensive) LPs of the era. The last original vinyl copy to hit the open market was back in 2005, it???s that rare.

Now ???Setting Forth??? is available on vinyl again for the for the first time in a decade, ready for true psych fans to devour. This is truly one of the cornerstones of underground psychedelic music, recorded in 1969 and released as we have said in a minuscule private edition. It is an album that jumps right out of the speakers at you, from it???s opening blasts of ???In-a-gadda-da-vida??? fuzz guitar riffs, right to the very end. Color insert has a suitably kaleidoscopic band history by Odyssey leader Vinny Kusy, as well as rare photos from his own archive. One of the most important psychedelic rarities ever pressed on wax???back on wax.

Informations complémentaires
| | |
| --- | --- |
| Poids | 1100 g |
| Dimensions | 0.0000 x 0.0000 x 0.0000 cm |