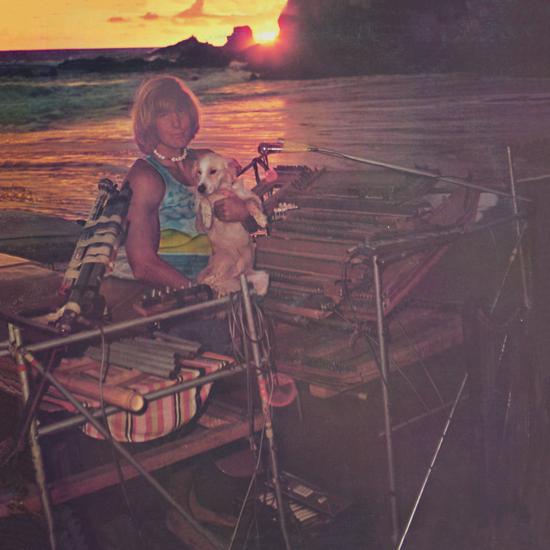 Product Description
Date de sortie :
2020-02-21
Étiquette :
HoboAngelMutt
-First ever vinyl reissue of this LP from 1972
-Housed in a Stoughton tip-one jacket

On earth as it is in heaven. Bobby wants to show how science will help that manifest. As a small boy he prayed for wisdom. Soon that led to a new physics he began telling people about, that will play a crucial role in bringing this total enlightenment. This concept album story, goes into detail, how Axonda technology, will be guided by what he now calls ???Gods Physics.??? He introduced pairing particle physics, with the spiritual. He feels eventually, it will cause many to believe in God. The Bible states we will know more, could this be part of that. Light In The Attic is proud to distribute this masterpiece. For having no major label behind it, this Axonda album over the years, has received a great deal of press. We???ll be utilizing what we feel are some of the most superlative quotes we???ve seen about any artist. Look under our description of Prayers Of A One Man Band, for more important information. Antonbildern ???Something big a true revelation.??? It???s that totally idiosyncratic thang we all are looking for.???This is a kind of magic, but it isn???t Queen it???s much much much better. ???But the most astonishing fact is that Brown has an extraordinary voice, one ranging 6octaves. Yes we???re accustomed to Diamanda Galis, Sainkho or Ima Sumac, but this man is even superior because this truly transcendent chanting comes directly from his soul, it???s not a technique learned at school.??? Surprisingly genuine and honest.??? Animal Collective ???A true original, he has been a huge influence on many of us that play music.??? Dusted Magazine , ???musical polymath.???

The nearly 50 homemade instruments placed on racks, gave Bobby the ability to play some of them simultaneously. Turning around to a more percussive rack in the middle of a song. Some pioneering instruments were played by his feet. His 7 varying sized electro acoustic square drums could have been a stadium show in themselves. He had giant metal flutes he could play while drumming. He had a 7 foot bass drone, that influenced John Lazell to build an amazing 14 foot bass beam. Later versions were used in Star Wars sound tracks by others. Possibly the worlds first portable synthesizer, designed by Bobby an built by Mike Wood, was the voice on Axonda. A high quality portable echo, along with the first high quality loop pedal , was built for Bobby by Ed Haas. Bobby didn???t use the pedal on this album. The challenge was to leave the last song on side 1, and all of side 2, one man band style. Hands an feet a goin, no overdubbing. There were 311 strings.

Leaving a doctorate program at UCLA to train for the Olympics in Santa Barbara, he met John Lazell and Carol Kleyn. John taught Bobby how to make electric pickups to fit any size creation. John was a huge influence on several of Bobbys instruments. Bobby gave Carol a harp an they played separately. His electro acoustic harp, an especially her acoustic, may have launched a 1000 harpists. Without Carols help, an Chuck Plotkin, an Michael Boshears ,this album might not be. John Hartmann (elite manager of many famous acts said,???You???ll be the next Beatles.??? He also said ???If you???d go out with just a guitar, you???ll blow any singer song writer away.???

Most acts play The Troubadour Hoot, to try getting a record deal. Owner Doug Weston said ???it was the best reception ever at the hoot???. Kenny Loggins was there an said ???It was the most incredible thing I???ve ever seen. It was like a wave building and building, an the crashing on me.??? Ram Das at a concert to get Timothy Leary out of jail, said to the audience,???What you just witnessed is the most talented and advanced example, of a new type of music that???s beginning to emerge.??? Alan Ginsberg agreed. Johny Rivers was there an wanted to produce Bobby. One of several record deals Bobby says he stupidly passed up. John Salstone Warner Bros.-???We have a tiger by the tail, but if we put put out Axonda first, we???ll have to promote him as the greatest prophet goin.??? Carl Wilson (BeachBoys) ???A first, the only thing new. Many many years ahead of his time.??? George Winston- ???Axonda is one of 2 of my favorite all time albums.??? All Music-Mark Deming-???Sonic experimenter supreme, of cosmic psych masterpiece Axonda fame.??? Ed Pinset London???s highly respected musicologist, in his Sound Projector Magazine, picked Bobby as one of the ???Four American Monsters,The Geniuses Of Avant Garde Music.??? Andrew Rieger (U of Georgia prof.- and Elf Power/Orange Twin Records ???I???m writing a book showing Axonda Physics was before The God Particle, and Philup K. Dicks Valis. Bobbys phenomenal voice is well documented, as well as his many musical inventions that played a part in the evolution of music. But most importantly, I want to show why he???s the greatest sci-fi prophet ever.???
Informations complémentaires
| | |
| --- | --- |
| Poids | 751 g |
| Dimensions | 0.0000 x 0.0000 x 0.0000 cm |